Don't wait – Order Deadline is December 31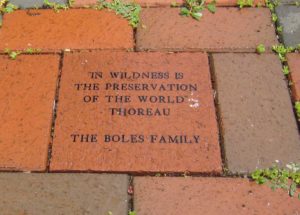 Friends of Great Swamp NWR is bringing back our commemorative brick campaign for a limited time. You can purchase a commemorative brick to be placed in the patio at the Helen C. Fenske Visitor Center through December 31, 2017. Your donation will help enrich and expand visitor experiences at Great Swamp National Wildlife Refuge.
A lot has happened since 2009 when the Friends first launched a brick fundraising campaign. The Visitor Center is now open seven days a week, welcoming thousands of visitors each year. School groups come to explore nature and learn about the natural world. There are additional native plant gardens, purple martin gourd arrays, and three trails for visitors. It's a vibrant, educational, and exciting place to visit.
Bricks on the patio memorialize loved ones, honor friends and family, or express donors' commitments to nature and the Refuge. All proceeds from brick purchases fund initiatives at Great Swamp NWR.
Download a copy of the Brick Order Form. Make checks payable to Friends of Great Swamp NWR and mail your check and form(s) to the Friends of Great Swamp NWR, 32 Pleasant Plains Road, Basking Ridge, NJ 07920. Credit card payments are accepted at the Friends Nature Shop in the Helen C. Fenske Visitor Center, open: Monday – Wednesday, 10:00 to 1:00; Thursday – Friday, 1:00 to 4:00; Saturday – Sunday, 10:00 to 4:00.
A commemorative brick is your lasting legacy and a generous and meaningful donation to Friends of Great Swamp NWR. For more information, email info@friendsofgreatswamp.org.