Here are some of the sightings reported by visitors at the Wildlife Observation Center from 2005 to 2010. Mark your calendars and come experience the arrival of spring.
March
Listen for the "peent" call of the American woodcock. It's peak duck season through mid-April, but that "quacking" call you hear may be the wood frogs, always in a hurry—calling and mating early—check for egg masses in the vernal pools. The tiny spring peepers produce a deafening spring chorus. Northern water snakes are basking on the tussocks trying to warm up. Ribbon and garter snakes are on the move as are spotted turtles. On a warm day, look for basking painted turtles. The skunk cabbage flower is almost gone by, but take a close look at the red glow on the maples—their tiny red flowers.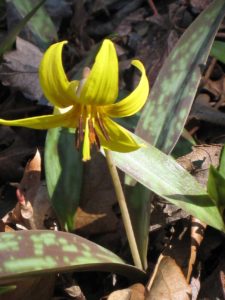 The Eastern phoebe arrives—look for the wagging tail as it calls its name. Ducks are still active—migrating blue-winged teal are late arrivals. Look quickly as the mourning cloak butterflies flit past; they get an early start by overwintering as adults. The tiny blue spring azure is also an early butterfly. Spring ephemerals begin their brief flowering cycle – the bright yellow trout lily is one of the first to bloom.
April 1- 15
Tree swallows appear, seemingly overnight, gracefully swooping through the air. The early warblers—palm and pine arrive. The small blue-gray gnatcatcher can be seen as well as the great egret slowly stalking on the ponds. Bullfrogs and green frogs join the chorus. In the woods, look for the white clouds of the shadbush's early bloom, before the other trees have leafed out.
April 16 -30
The songbird migration is picking up: look for Eastern kingbird, or an early black and white warbler. The mallard is already on her nest. More flowers rush to bloom taking advantage of the intensity of spring sun before trees leaf out, creating shade: carpets of the pink-striped spring beauty, star flower, dwarf ginsing, wood anemone.
May 1–15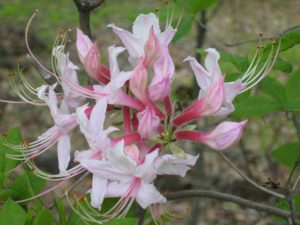 It's the peak of spring songbird migration—the woods are full of color and sound. Listen for the haunting call of the thrushes. Vireos and brilliantly-colored migrating warblers abound. The tiny ruby-throated hummingbird buzzes past. Spring ephemerals are giving way to showy summer flowers: golden ragwort, the spectacular pinxter azalea, the blue flag iris, the floating yellow spatterdock. All too soon, summer arrives.