Spread Your Wings for Conservation
17th Annual Fall Festival, Saturday, September 10, 10:00 a.m. to 3:30 p.m.
The days are getting shorter and the birds are staging for their migration south. That means it's Fall Festival time at Great Swamp National Wildlife Refuge.
Fall Festival is a day-long celebration with lots of activities for kids and adults, ample parking, and free hot dogs on the grill for lunch.
Come for river seining and check out some of the critters that live in the Passaic River.
Try your hand at target archery or our hoverball shooting gallery.
Climb aboard the Refuge's really big equipment and check the view.
Build a bluebird nest box to take home.
Join us for a guided nature walk on the Bockoven Trail.
Watch our Migrating Monarchs original play!
Check out the live refuge critters – turtles, snakes, frogs – and fish!
Buy some Ron Orlando Wildlife Art – Show and sale.
Learn about our innovative Head-Start program for turtles and see the wood turtle hatchlings before they head to their winter "spa".
Stop by and visit our partners – The Raptor Trust, NJ Audubon Society, Native Plant Society of NJ, North American Butterfly Association, the Passaic River Institute, Great Swamp Watershed Association, U.S. Fish and Wildlife Service's Customs Officers.
2016 Photo Contest winners will be announced at 11:30 a.m.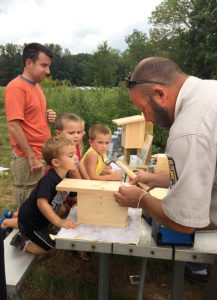 This year we're celebrating the Migratory Bird Treaty Centennial, 1916 – 2016. Start the day with our Migration Passport – answer all the questions correctly and collect your prize!
Fall is a fabulous time to visit Great Swamp National Wildlife Refuge. Join us to kick off the fall season.
17th Annual Fall Festival
Helen C. Fenske Visitor Center
32 Pleasant Plains Road, Harding Township, NJ
10:00 a.m. to 3:30 p.m., rain or shine
View/download the Flyer / Schedule.